Shopping Cart
Your Cart is Empty
There was an error with PayPal
Click here to try again
Thank you for your business!
You should be receiving an order confirmation from Paypal shortly.
Exit Shopping Cart
| | |
| --- | --- |
| Posted by Cindy on January 15, 2014 at 10:35 AM | |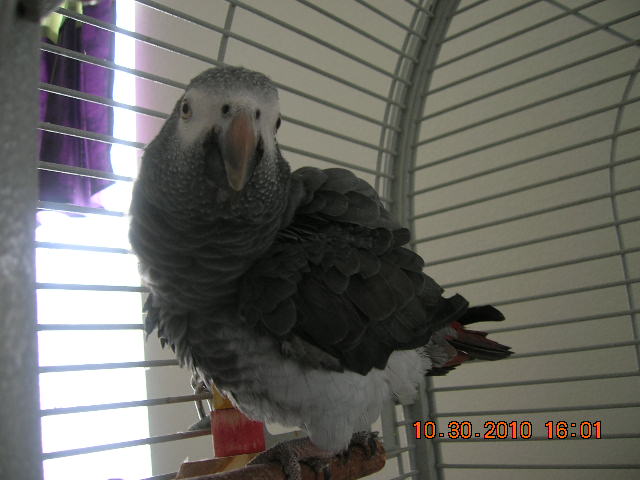 Humans are smart creatures. I have adopted no fewer than five over the course of my life, and I've found that humans are wonderfully smart.  They can be taught many interesting skills. You don't even have to feed treats to humans to train them.
I have my human trained to bring me a snack, get the dumb dogs out of the room, come into the room where I am, and whistle with me. I even have other humans trained to back off.
I already showed you how to train humans to bring a snack.
To get my human to remove the dogs, I fluff up and snap my beak at them. That gets my human's attention and she promptly ushers the dogs away from my apartment.

If my human has left the room, I get her to come back by whistling "You who!" She whistles back a few times then comes back to see me. To get her to whistle, I whistle until she answers. She's really a very clever human.
So how did I get her trained?  It was very easy.  Watch your human carefully and pay attention to how they react when you do things.  Then, when you want your human to do something, think back through how your human reacted and do the thing that made your human react how you want.
For example, I noticed that when I smacked my empty food bowl or toy box, my human came over, looked in my bowl, and brought me a snack.  Now when I want my snack, I bang my bowl and she brings me a snack.  I have her so well-trained!
You birds out there who are reading this over your human's shoulder, you should try this.  Before long, your human will be bringing you snacks, getting dogs away from your apartment, whistling with you, and coming to visit.
If you have a tip for training your human, share it below so all birds can benefit.

Categories: None
/